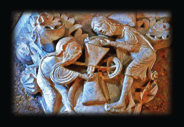 Based in Nashville, Tennessee, USA,
Alan L. Miller (right)
and Danny Strimer (left)
– lifelong friends and collaborators –
are currently involved in songwriting, music publishing and artist development, working with established and emerging recording artists.
Dan and Alan's Miller's Tale Music co-publishing venture has recently benefited from Alan's prolific songwriting. His song – cowritten with Rick Trevino – I AM A MEXICAN is included on the 61st Grammys nominated album CRUZANDO BORDERS by Los Texmaniacs, 5 songs on The Maverick's album HEY! MERRY CHRISTMAS!, the Grammy nominated song I WISH YOU WELL – that is one of the 9 songs Alan cowrote on The Mavericks' 60th Grammys nominated album BRAND NEW DAY, 3 songs on The Mavericks' 58th Grammys nominated album MONO, 7 songs on The Mavericks' releases, ALL NIGHT LIVE, and multiple songs on Rick Trevino's upcoming album LONG COYOTE GONE.
Dan Strimer and Alan Miller recently collaborated with one another writing Jazz songs, most recently, 10 Latin-inspired songs for a musical theater production. These also songs led to Danny's recent album, "Danny Strimer New Love Songs | Bossa Nova and Beyond."